Socioleads 2021: A Year Review Of Leading CRM Software
From the beginning of this year, we have dedicated ourselves to enhancing the services of our CRM software to improve your customer support experience all over!
This year! 2021 was a rollercoaster ride of happy and sad times for each of us. But as far as we know, we did our best to keep up with the changes, and we also had the luck to be a part of the success stories this year. So, we have to thank all of our customers who trusted our product and services in the past months. On top of it, we thank each one of you who has continued sticking with us through thick and thin.
There is no doubt that there have been instances of challenges to every business around the corner. Hence, we created some blogs and articles that might help the business to achieve goals through CRM software technology. 
As we approach a new year and new beginnings, let us embrace the success and struggles to their fullest. And the best way to latch onto this feeling is by reminiscing the entire journey we had spent together. 
Looking forward to a strong jumpstart in the new year of 2022, we are sharing the glances of our best CRM software solution articles of this year.
Stay Tuned!
This is our first blog, where we shared tips and techniques through which you can retain your customer for the long run. As this was our first post, we tried to introduce the CRM software technology of Socioleads as much as we could. From offline customer engagement tips to rapidly changing online customer engagement trends, we covered pretty much everything you needed to know.
Moving forwards! We have – 
As the name suggests, we discussed various benefits and importance of chatbot marketing in this blog post. Chatbots hold a very firm ground of lead generation and nurturing aspects. CRM software technology has led us to an easier customer retention process than ever.
In this tech-savvy world, one cannot survive this competition without adding bots in their customer relationship management strategy.
Socioleads – a CRM software, is composed of diverse chatbots that give you more team efficiency and set your marketing campaigns on autopilot.
At the end of the day, all that matters is the conversion of efforts you put out there. 
So, In this blog, we have shared some tips. That can boost the lead generation and conversion prospects of your business.
Well! As true as these strategies seem, they are merely a notion of what a person should do if he/ she has no idea where to start. Many brands follow their own approach and thrive in their marketing campaigns. 
We have tried to include the fundamental customer relationship management strategies in this blog. As in SocioLeads, its CRM software technology supports whatever lead generation strategies you have in mind.
The reasons for scheduling in social media can be anything, but the goal is always the same. Social media marketing revolves around maintaining a social presence and nurturing its audience. That one cannot do without the support of effective social media tools!     
In this blog, we have thoroughly discussed how you can leverage Socioleads. To maintain an excellent social media presence. Social media schedulers help you effectively keep up with the dynamic social media campaigns and robust analytics altogether. 
With the fusion of this tool to Socioleads CRM software technology, you can imagine what a superpower feels like! So, take a look at this blog where we have tried to cover your every CRM entail, just for you!
Well! Moving ahead, we have –
Content marketing is basically the mix of documenting the history and future prospects with the fusion of trending keywords that relate to your niche marketing. 
Well! I cannot spell out how you can leverage content marketing in your CRM strategy better than this blog. So, give it a read and unfold all the strategies that can actually make a difference in your content marketing game plan.
Social media has an immense impact in today's world. Nowadays, social media platforms are evolving to become head-to-head competitors of e-commerce platforms. And in such times, it is more than crucial to take care of your social media audiences.
In this blog! We have enlisted the key strategies that can actually create an impact on your lead generation and conversion prospects. We have discussed campaign management and powerful post analytics you can ever have. Along with this, Socioleads makes sure that you discuss CRM software technologies – such as chatbots to influence your customer support framework.
Facebook marketing is one of the most discussed topics that affect the whole digital marketing sphere in real time. 
In this blog, we have put forward the ways and techniques you can channel the power of Facebook marketing. Socioleads specializes in CRM software technology that consists of live chatbot marketing and social media automation. And with this software, resonating with the Facebook algorithm is a piece of cake. 
Wanna know how? Then do give it a read.
Until then, let us move forward to – 
Again with Facebook! I must say, Facebook is still the number one favorite of advertisers. The news like this was the most trending topic those days. Well! This Facebook update is still new and effective!
So, if you are also struggling to find out – How can you hide comments on Facebook? Then here is the solution! Give it a read guys; And let me know in the comments that it was helpful to you!
With Halloween around the corner, we have come up with this blog, which can surely ease the efforts and lead the way out of our fellow readers. We covered all the tips and techniques through which one can expect a boost in the sales graph in their business.
Socioleads has always come up with marketing and CRM software solutions that have helped many clients and blog visitors in the past. Well! The festive season is still not over. The new year is still right here! You can use this blog to forge a successful sales campaign this festive season.
Happy conversion!
Again! The blog for the festival! Diwali is just the beginning of the real festive fever in the Indian market. Combining the marketing tips given in both the blogs of Halloween and Diwali, you can design your own marketing campaign. 
If social media is your niche, then this blog can really create a difference. Well! The festival of lights is already over. But still, you can use its strategies to come up with an exciting new year marketing campaign.
With Socioleads CRM software technology and its well-researched marketing tips, you can thrive in the competition without putting in much effort. So, get yourself up and apply one of those strategies we have for you!
The Go-To market strategy is a tactical action plan. It requires creating a complete framework of branding and customer retention. You can say! It is the core strategy you apply before setting up any business.
There is no better way you can understand this concept in this sum-up section. So, I advise you to give this blog a read and understand what actually is a Go-To-Market strategy. 
Well! You must be wondering how Socioleads fit into this niche of business management. I must say, the CRM software technology of Socioleads is one such thing that belongs only in the inner circle of your branding framework. Because without knowing how you will manage your clients, your efforts are only halfway there.
Anyways! Let us move on to –
Thanksgiving is one such festival that gives a boost to Christmas sales in a prominent manner. The holiday sales of Thanksgiving had risen to 21.5% in the year 2020 despite pandemic  And this year's Thanksgiving sales made it to 5.1 billion dollars worldwide!
That is huge! 
Well! We believe there are no shortcuts to success. Therefore! We have compiled the most comprehensive Thanksgiving sales strategies of the market. That can surely give a boost to your sales graph. 
Thanksgiving is already over! Although, I can bet you that marketing strategies never get old until better technology arrives.
So, do give it a read! And design all your marketing campaigns as they are for Thanksgiving!
In this blog, we have put together all the key techniques for you to improve the messaging response rates of your Facebook handle. So, enjoy better engagement prospects with your clients minus any hassle!
The CRM software technology of Socioleads helps you utilize the power of messenger chatbots to give immediate responses to customers and streamline funnels to have more conversions.
In Socioleads, we are passionate about customer relationship management. Our CRM software technology is known for quickly understanding and distilling complicated CRM processes into easy ones.
With this thought! Let us move on to another article on customer service we made for you – 
Customer service is one of the most crucial aspects of any business. And in recent times, people prefer to write complaints online than have a phone conversation. But here is the catch! We know phone support is direct, personal, and better than chat service ever will be. Then why people prefer chat service over the phone is certainly a mind-boggling question!
Keeping this point in mind, we have created this blog! We have tried to include pretty much everything we could to access the reason behind this behavioral trend. Do give it a read and clear out all the queries you have!
Christmas is that time where online and offline sales grow up to 16% worldwide. Keeping such sales prospects in mind during Christmas, we have come up with a blog that can assist you with the nitty-gritty of forging Christmas marketing campaigns.
There is still some time left for Christmas. So, what are you waiting for?
Do give it a read! 
What To Expect From Socioleads CRM Software In 2022?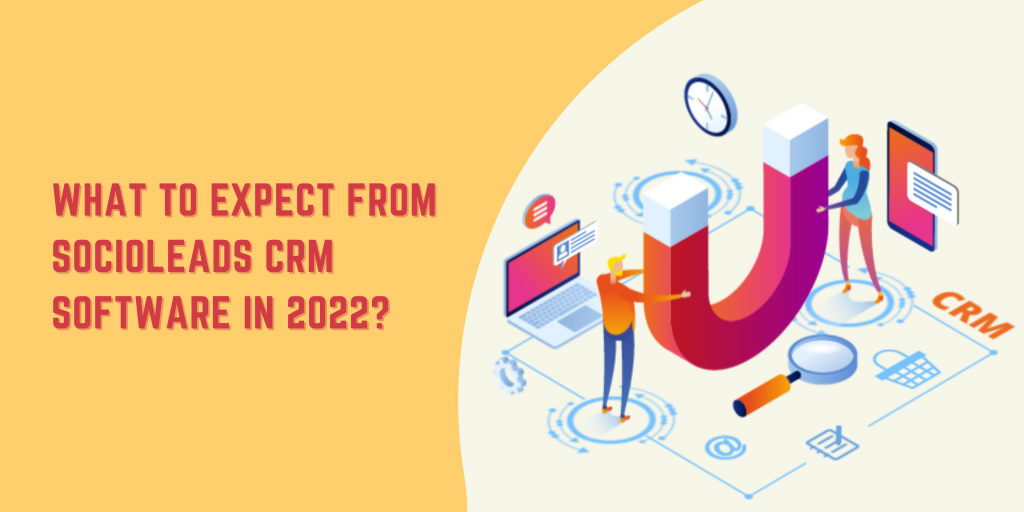 The world is growing impatient at a mind-numbing pace. And during such times, making someone wait is bad for business. With this thought, we did some research on how to stay above the red line of your customer relationship management game from the new year onwards.
So, stay with us until the end as we uncover upcoming trends in the CRM software niche.
AI-powered analytics technology to become a standard part of any CRM software.

The rise of social media empowers the use of chatbots for micro-businesses to large businesses.

Increase in automation to improve the productivity of service agents.

Hyper-personalized CRM experience to gain momentum.

Increased focus on customer experience via CRM software technology.
It's A Wrap!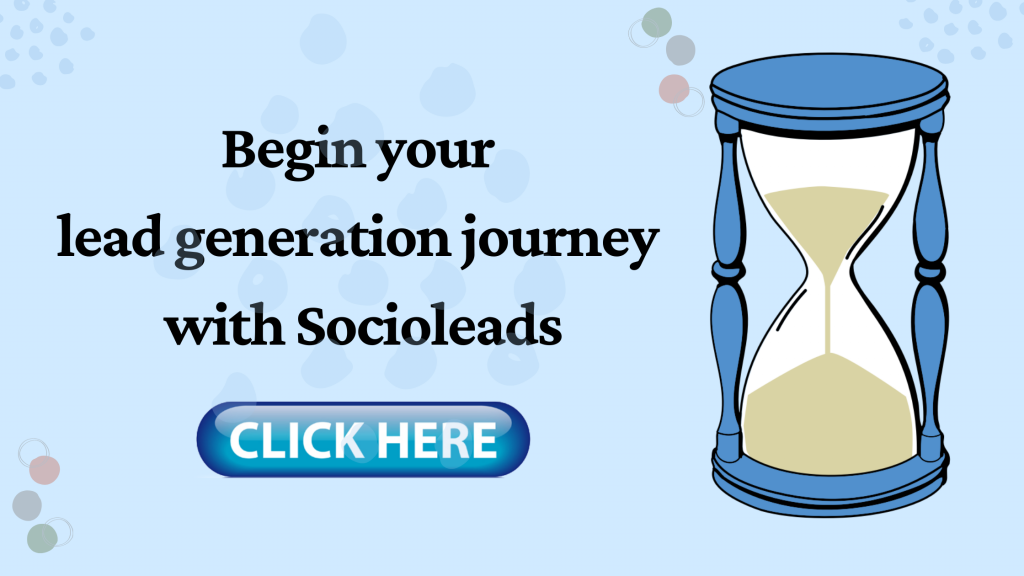 One of the most welcome moves in this world is the sense of closeness among people. People just want to live in harmony with one another. And when you see them taking care of each other, it makes you want to smile. We are so glad to know that the world is changing for the better, and people are making this possible through their hard work and dedication.
Being able to acknowledge such a change in the world of marketing has inspired us to explore the potential of CRM software technology we have in Socioleads.
You can make a difference thanks to a good network of colleagues, partners, and clients that will support you through thick and thin times. In fact, that is what we always emphasize to our readers. Knowing how important it is to build your CRM software strategy right now before it's too late.
The best way to show our gratitude is to make our fellow marketer's businesses grow even more.
Happy New Year!