10 Steps To Boost Sales: Create Best Marketing Campaigns For Christmas
Regardless of what budget you have to execute Christmas marketing campaigns! You will need to put together the best festive strategies to thrive in the competition. As December approaches, people begin to prepare for the biggest holiday season of the year. 
Did you know that advertising around Christmas is one of the most effective campaigns that any business can do to increase their sales?
It is because consumers are looking for ways to spend their cash and have fun, so they are more likely to spend money on gifts and go out for meals. People are looking to buy presents for their family, friends and loved ones and spend time with them.
And which puts you in a very profitable position where you can easily make sales without putting in much effort. But hey! You would want to strengthen your market image when you have such an opportunity. 
Make The Most Out Of Everything This Christmas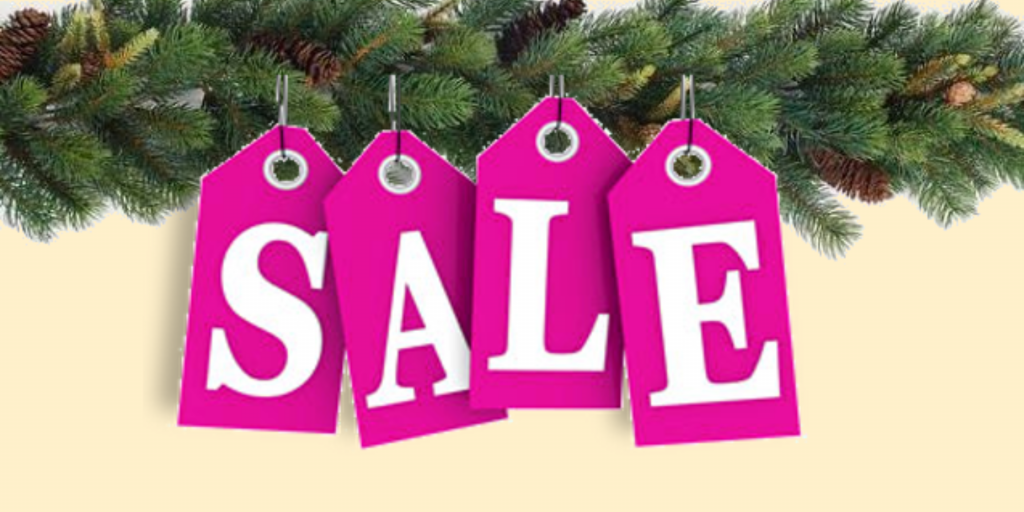 Christmas advertising is a really good way of getting your product or service noticed by the public.  There are many different types of Christmas marketing campaigns that you could make. So we decided to bring you our top tips for the best marketing campaigns for Christmas ever! If you follow them carefully, they will hopefully lead to your success.
1) Start with the strategy
First off, identify the priority actions you need to perform. To create a firm foundation for marketing your product or services. For example, you need to examine every platform for advertising, such as social media, print media, cold calling, messaging, email, and TV commercials.
Carefully analyze what works on which media can get you the boost you require. For instance, social media is the place where trends are the most common thing you can see. We are not discussing basic things you can do with social media, but the bigger picture. 
Every media has a different set of audiences. To understand which media works for you, you need to anticipate its audience.  For example, social media has an audience of age range between 14 to 35. Well! It also depends on the kind of social media you want to focus on.
Messaging, cold calling, and emails come under the marketing tactic where you decide who will be your client. Unlike social media, you get to choose your audience. And when you know who your audience is, generating leads is easier than ever. 
The psychology of the buyer is based on two aspects – 
People do not buy an Apple watch because they need it, but they purchase it because it compliments their personality. Likewise! People do not purchase automation services because it resembles their status. But they buy them because they need them.
Understand what emotion your product holds. And advertise it accordingly.
2) Use Your Network To Derive Organic Sales
Small businesses must embrace their networks when it comes to marketing. Many marketers and retailers focus on WhatsApp messaging, cold calling, and offline messaging. These means of advertisements have a literal prospect to boost the word of the new marketing campaigns. This tactic gives a sense of surety that the client might revert as they have already built trust with the retailer.
Meanwhile, bigger marketers can use this tactic by tracing back website visitors. Also, they can pitch their old and existing clients through text messaging and emails. Blog marketing also helps to take out the word of the deal and discounts to selected clients. 
3) Rebrand Your Services With Christmas Marketing Ideas
Maintaining your brand presence while running a Christmas marketing campaign can be challenging. And in such a case, you would want to keep your client engaged with you while your competitor is busy luring them away.
Rebranding your services and your products are one most crucial thing you can do to hook your clients with you. The thing about rebranding is that you creatively infuse your brand ideology with the occasion. So that you can advertise in a way that pitches your client's sentiments.
Also, rebranding means that you reframe or build your brand identity in such a way that communicates your brand's expertise and reputation. 
There are various ways you can practice rebranding. Let us discuss some.
Create Landing Pages.

Create Social Media Buzz Of New Offers And Deals.

Simplify your brand message to reach more eyeballs.

Target your clients specifically.
For a few decades, Christmas has been the epicenter of sales for the markets all over the world. And with the digitalization of sales and marketing, lead generation through marketing campaigns is on a crazy level. So, why not use the above points, and create more precise marketing campaigns. 
4) Use Offers And Discounts To Lure Customers
Christmas is that period of the year when all businesses try to lure customers by offering various deals and discounts. Even to small businesses, Christmas provides an opportunity to promote their brand at a larger level. It improves their reputation among customers and makes them loyal to your company. 
5) Do your Best Research for Christmas Trends
For any marketer, Christmas advertising is an exciting time. You have the opportunity to introduce new products, develop a new theme or copy. And, of course, interact with consumers that are open to your message at this special time of year. 
The key to making this a successful advertising campaign is research. It's often easy for businesses to throw money at advertising and blitz their target audience with a message. But without knowing what's worked in the past. And what type of messaging is resonating with potential customers. It can be difficult to stand out from the crowd.
So, here is the list that you would like to try for executing effective Christmas marketing campaigns.
Research your competitors.

Research the latest trend of sales within the audience of your niche.

Research for popular advertising formats.

Research for popular placements for your advertisements.

Research on buyer's market behavior.

Research content strategies and target audience.
6) Leverage The Power Of Christmas Video Ads
The video format is one of the most optimal advertising strategies you can have for Christmas. The present-day social media generation is all about entertainment. And video ads that resemble Tik-Tok or Reel format have a better chance of thriving during this competitive era.
Marketers specifically targeted Christmas shoppers who tend to be more festive and generous.  One intelligently created video ad can truly entice Christmas shoppers to spend more this holiday season. 
7) Use Your Competitive Intelligence
The holiday season is the best time of the year for most businesses. And this is a great opportunity for your business to make more money. It has been widely reported that online sales grew by 16% this past holiday season. Even more, they hit $100 billion – a new record. 
With such a hit in the sales graph, you should be aware of your competition. Check out the digital marketing campaigns of your competitors this season. Look for any mistakes and their ad strategy as these will give you an advantage.
8) Use Social Media Wisely
Social media is a great way to advertise your small business. With all the new features, it's also tempting to try out as many new techniques as you can before the holidays. However, if you spend too much time trying to be everywhere, you could end up leaving money on the table! And weakening your message instead of strengthening it. Quality is better than quantity when it comes to social media – so make sure to stay on topic.
Pre-planning is key for successful marketing campaigns. Before any new feature launches, check out what kind of traffic it has generated for competitors in the past. Try posting at the same time of day. When you use SocioLeads automated social media engagement tools, you know how a post is performing. SocioLeads offers real data that it has collected from its previous marketing campaigns to suggest to its users the best possible variables.
9) Add Cold Calling And Messaging In Your Christmas Marketing Campaign Strategy
The cold calling aspect of this Christmas campaign strategy is simple yet effective. Just call the list of contacts that you have previously developed. If it is a larger-scale campaign, you may call them on behalf of the company. Or, if it is smaller, you may be calling on behalf of yourself.
Don't let a full or overbooked schedule get in the way of your Christmas marketing list. Marketing automation tools like SocioLeads allow you to add messaging bots to your strategy. For example, make sure you are reaching out to prospects before Christmas to encourage them to try something new. And if they are not going to do something new, at least make sure they think about you and your company.
10) Create FOMO
The fear of missing out – this one feeling can have a profound impact on consumer behavior, shopping patterns, and purchasing decisions.
The right type of fear will persuade your audience to purchase or take some action. You can use FOMO to push people to take action on sales, product launches, and various campaigns.
Many small businesses and marketers rely on the holiday season to boost sales, increase engagement and improve customer loyalty. But why wait until the last minute to get started with your marketing strategy?
This Christmas, we are all looking for must-have presents for our loved ones. We are all on the hunt for that special present that creates FOMO (Fear of Missing Out) in everyone else. How do you create FOMO for your product or service?
The answer is hosting creative marketing campaigns. No matter what you're selling, it helps to generate some intrigue and excitement around what you've created. That's where creative marketing comes in.
Small Business Christmas Marketing Campaigns Always Thrives. Here's Why!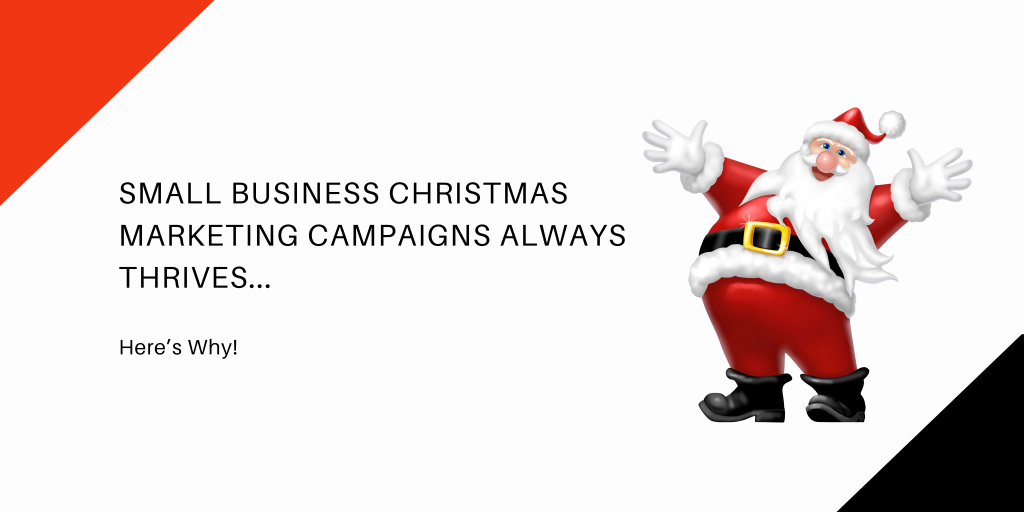 The holiday season is one of the most optimistic and cheerful times of the year. It is a great time to build your sales. The best way to do this is by advertising your products and services on Christmas. There are various ways of advertising. And it can sometimes be a bit confusing which kind of ads are best suited for your business. 
Like any other marketing campaign, you must have a strategic plan in place to achieve the desired results. This is crucial if you want to reach more people with your brand. 
It's no surprise that the average Christmas shopper is estimated to spend over $800 this holiday season. Just as people are spending more on gifts, brands are spending more on holiday marketing than ever before. Since 2011, holiday advertising spending has risen 12% and is expected to continue to increase each year.
One of the most crucial things retailers and small business owners should do for their Christmas marketing campaigns – is to ensure that their messages are relevant, timely, and engaging. The better your timing, the more likely it will be successful.
Reasons why Small Businesses will thrive on Christmas Marketing Campaigns this holiday season. 
After the pandemic, people started spending on small businesses more than ever before! 

Because of the pandemic, many businesses took their sales straight to online platforms.
One report of thequint.com shows that pandemic seems to go dull across many states of India. And the GDP of India has expanded up to 8.4% compared to the year 2020.  Since the festive season is at its peak, one can expect that the economy will go on rising in the upcoming months.
Use The Expertise Of SocioLeads To Manage Christmas Marketing Campaigns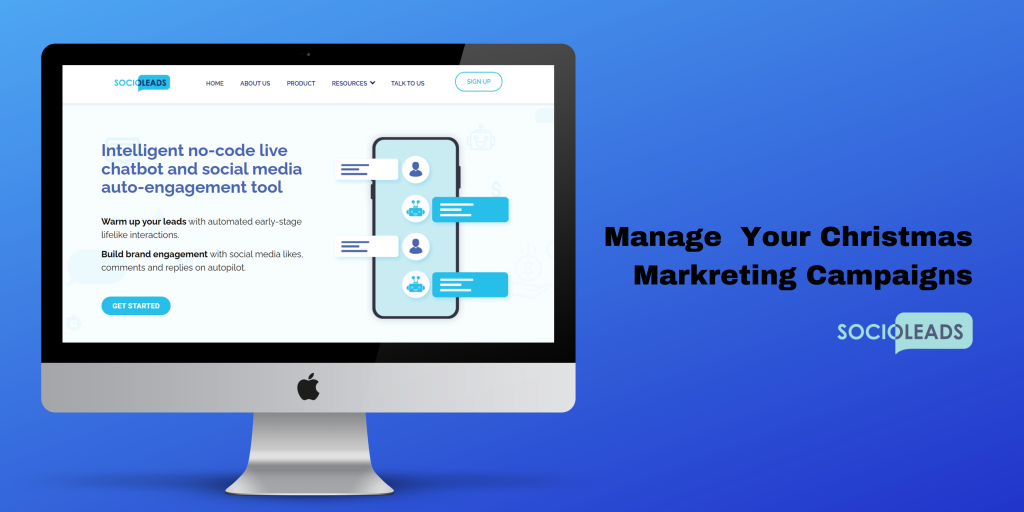 The days of manually managing the clients and their queries are over. We do not know if you are an existing client or have not heard of us before. But we have got the solution to put your mind at ease. You can now easily run your Christmas marketing campaigns with SocioLeads exciting campaign manager and customer relationship management solutions.
The best part is that it's easy to use and can be done within minutes. You will see the impact on your leads right away.
One of the best things about SocioLeads is its ability to automate your customer support setup with its no-code live chatbots.
Let us discuss the perks of using SocioLeads to manage your Christmas marketing campaigns. 
Optimized chatbot messaging strategy.

Instant and 24/7 customer support.

Robust analytics and engagement reports.

Comprehensive automation tools.

Intuitive UI and UX for advance tracking of

marketing campaigns

.
So, join the ultimate customer relationship management software – SocioLeads, and thrive in your Christmas marketing strategies.
The Wrap!
The holiday seasons are always the most profitable and successful season of the year for retailers, marketers, and small businesses. It is why as a marketer or small business owner, you should know about the trends in Christmas marketing this year. Knowing the mentioned marketing strategies will help you create an effective, promising, and successful Christmas marketing campaign and increase your profit.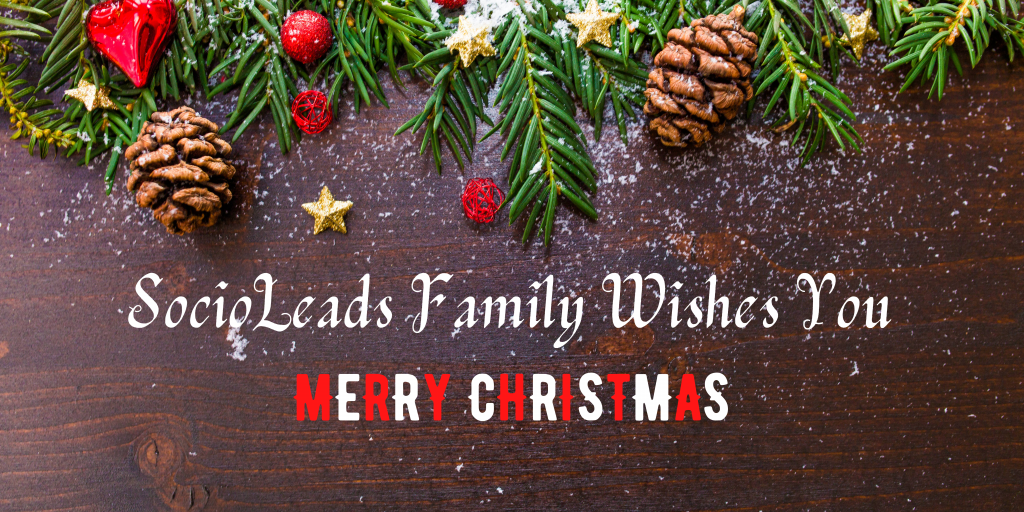 Also, Read!