Top 6 CRM Lead Generation Strategies To Upscale Your Business
Are you hustling within the marketplace for quality lead generation? Then you must have the software that ensures to optimize your CRM and accelerate your lead generation process. 
CRM is the type of software that is a fusion of bots and AI which helps businesses automate their customer communications and manage relationships as humanly as possible.
There are countless options available on the plane to replace your applied effort and time for lead generation, but things don't come without repercussions. Many businesses are running short on hands and full of workload. It is really getting tough to beat the competition without having a good lead generation strategy that suits your business.
People may use regular chatbots as a catalyst between their businesses and customers to get extra engagement but, sometimes chatbots may take you straight to the spam box of your customer's device. That's why it is crucial to have a well-founded CRM such as Socioleads installed in your system to avoid any hassles towards your sales potential.
Fortunately, Socioleads provides you an instant boost in ROI by automating & customizing lead generation, which will help you strengthen better relations with your customers.
So, before going ahead with any of the lead generation ideas, let's come clean with the obvious question; what does lead generation mean?
What Is Lead Generation?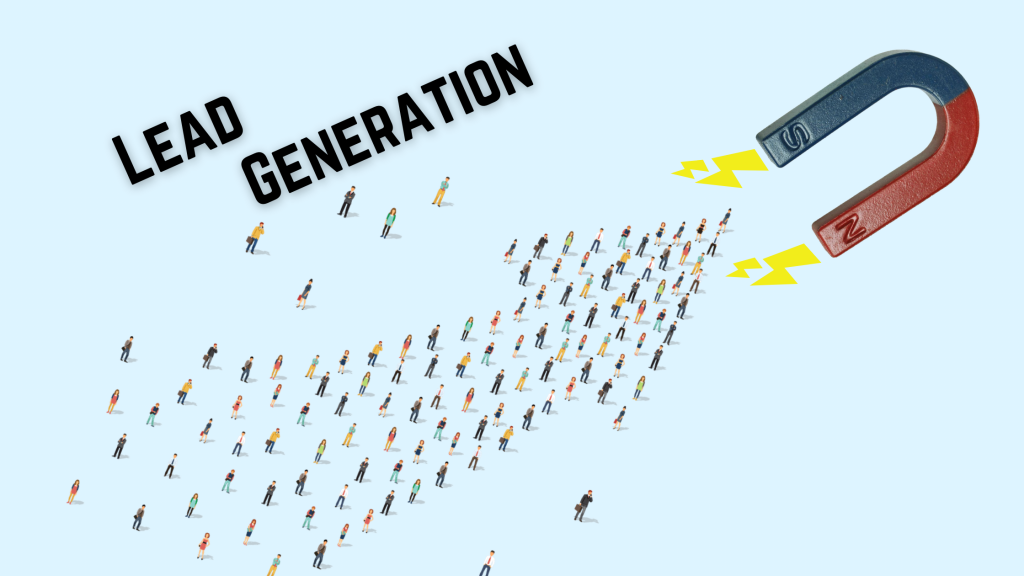 Any profitable business and sales strategy involves the term lead generation. We must know that anyone and everyone is the lead of a specific sales funnel. 
So, from a business point of view, the consumer is the lead that needs to be found or discovered by the company sales campaign to get converted and become the company's ROI. It is the complete meaning of lead generation.
Many businesses make the initial mistake of not specifying their target audience, which causes them more effort and less conversion. While doing outbound marketing, it is important to filter out the class of customers that will potentially take an interest in what your company is offering. 
Modern brands follow the lead generation process to effectively draft their sales campaign and forecast ROI boost within a defined period. Let's have a look at one of those!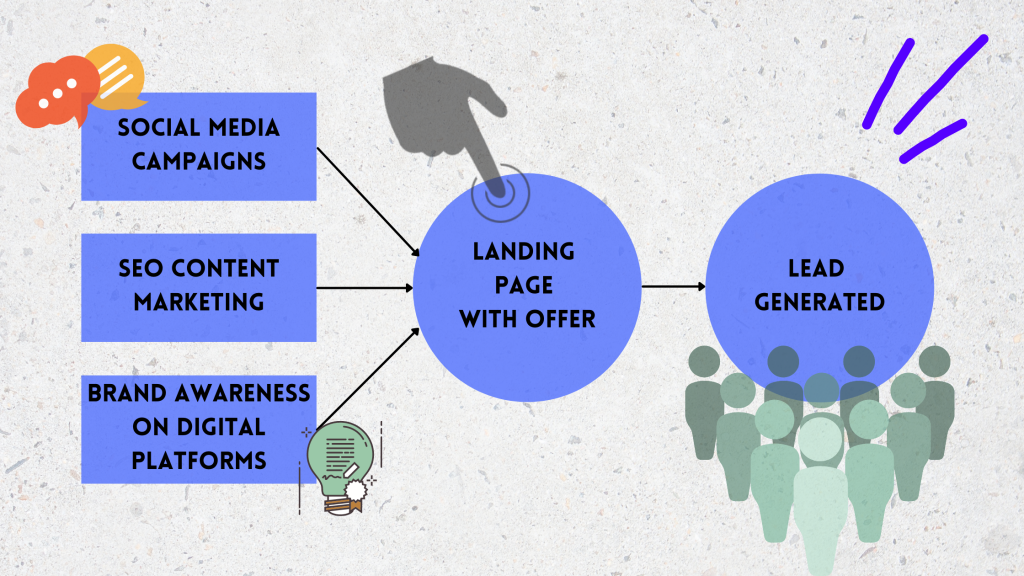 Knowing how to maximize the conversion rate gives you leverage in this outpouring competitive world. Companies can focus on creating brand awareness on the digital and ground level before making any move.
Following the lead generation process is quite easy with the help of some CRM tools. For example,  Socioleads enables marketers or business owners to automate their sales campaigns, where intuitive bots respond to the customer in a very personalized way. 
Let's know more about the role of Socioleads in lead generation.
How Does Socioleads Help In Lead Generation?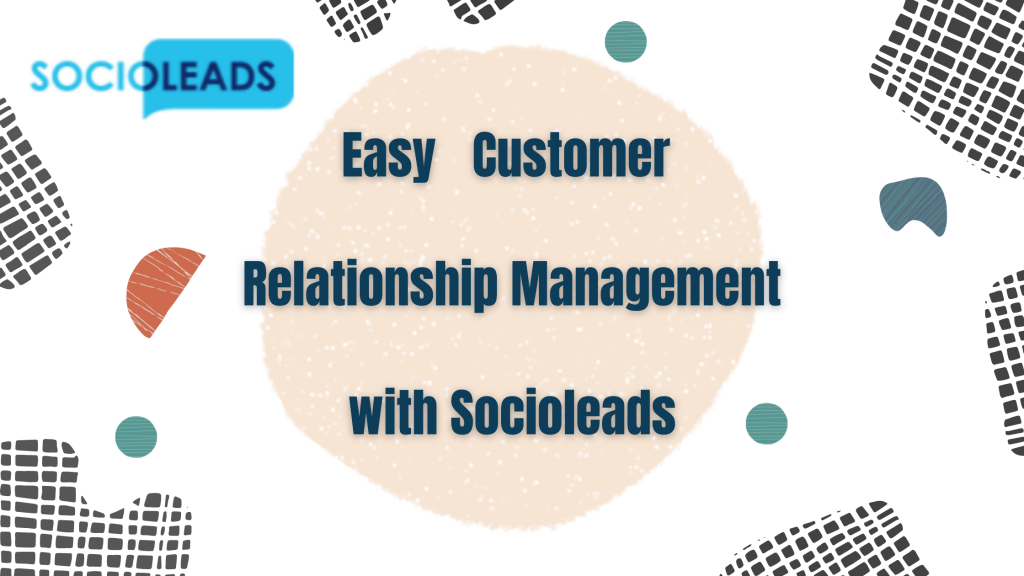 The smart businessman knows that the modern world is growing impatient at a mind-numbing pace, so making someone wait is a bad idea. In such times finding a loyal customer is harder than counting stars! So, getting hold of an effective marketing strategy that ensures loyal customers is nothing but a goldmine to your business. 
Socioleads is specially designed to meet such conditions. It is a CRM software that ensures lead generation and stimulates your brand's ROI. Sure, it does behave like a chatbot that will answer the most asked questions in the most human way possible, but it has more extensions than this. 
With Socioleads, you can avail of the following features.
Intelligent auto-response.
The detailed history of customer's engagement with the brand and similar content.
Analytical tools to understand the customer better.
Identifying target audience.
Automating sales campaigns.
Tracking profile visitors.
Advance customer report.
Lead nurturing.
Cut the delay before you lose your customer. Start with Socioleads today!

CRM tools are changing the customer support dynamics of the modern market. With a customer-centric approach, a business can reach its milestone more quickly than expected. Socioleads can work just the same as steroids to your lead generation strategy. 
So, let's discuss some proven lead generation techniques.
Strategies That Cater To The Lead Generation Process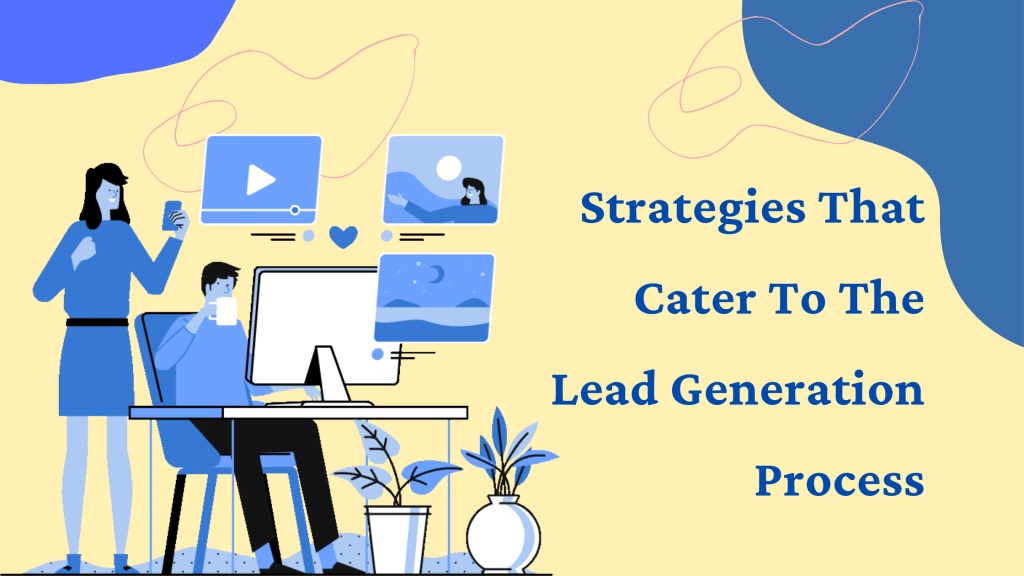 Most marketing departments determine a successful lead generation campaign by simply focusing on a certain sales framework. Well, what counts at the end of the day is the conversion rate of the company. So, before we skip to the strategy part, let's first get the know-how of priorities associated with lead generation.
Improve the quality of leads.
Increase website visitors.
Improve strategy effectiveness.
Optimize digital adverts. 
Refine ROI estimation.
Increase brand visibility and awareness.
Focusing on quality leads and optimizing brand visibility can potentially derive supreme ways of discovering reliable customers. Putting efforts on forging effective sales strategies and advert placement can improve the ROI and boost prospects. As far as the goal is concerned, these priorities are worth investing time and money in.
With these priorities in mind, let's discuss some of the top lead generation strategies out there.
Create effective campaigns.
Your customer is getting clever day by day! Hence, the outdated lead generation ideas won't work now. So forge effective and exciting digital campaigns that pitch your audience in as relatable way as possible.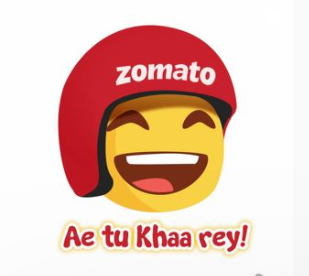 For example, Zomato leverages Bollywood dialogues and present-day social media mood to moderate their campaigns. You can do that too!
Publish SEO-based content.
SEO should be the primary aspect to consider before anything for leveraging content like blogs or videos for lead generation. SEO allows your content to rank higher in search results, which ultimately leads to increased brand visibility and awareness to your target audience. Plus it will help in local marketing too! 
Get active and creative on digital platforms.
Digital marketing is the present-day marketing trend. Being available to all digital platforms is not enough. Getting active and creative is going to help your lead conversions. 
For brand engagement, optimize your website with relevant CTAs and publish exciting and trendy feed posts on social media periodically to target specific audiences. Start an active email, text message, and social media campaign and invite people to know you better. 
This way, you'll get more brand visibility and higher prospects of lead generations.
Hold unique events for ultimate brand visibility.
Offline or online events also help to take you to a higher range of eyeballs. On one way, you can hold seminars or host any public event related to your field. It may seem like an expensive option to opt for, but this can get you close to your target audience more swiftly. 
Well, if you don't want to hold bigger events, you can go for happy hours and chat sessions too! And because of the covid-19 pandemic, you don't even have to spend an extra penny on any event. You only need a well-founded internet connection, that's it!
Timely update products and services.
Everything is changing so quickly in this world of tech and AI that failing to sync your speed can cost you your network! So, keep upgrading your products and services according to the need and trend. Well, forecasting prospects can also help you revive your lead generation process. Hence, start brainstorming!
Set out legitimate offers periodically.
If you observe closely, people are crazy about offers and stuff. You might want to set out offers too! There are so many brands that leverage festivals to make grand sales. For example, Flipkart and amazon, you can do that too on a brand-related occasion.
Bottom Line
There are many tricks and techniques to pitch your target audience. But, anything that works for you to reach your audience is a lead generation strategy until you find your own way to hook your audience, use these six strategies, and avail of a big boom in your sales campaign ROI.  
Apart from strategies, using CRM software also makes things pretty easy by fetching crucial information regarding your customer. They help to materialize your strategies more efficiently.
The bottom line is to get converted, and using lead generation tools like Socioleads helps marketers to accomplish their ROI goals quite early. 
Ready to build your customer network? Request membership to Socioleads now!