07 Clever Thanksgiving Marketing Ideas To Boost The Sales & Steal The Show
November- the season of holidays is right around the corner. There's Thanksgiving, Black Friday, and Cyber Monday — all crammed together in the last week of November. It is a great deal and acts as a gold mine for small business owners. Marketers will soon be rolling up their sleeves to promote sales and urge customers to do the shopping for the holidays. And, since we are on the subject of holidays, make sure you have your Thanksgiving marketing ideas visuals ready before the holiday comes knocking on your door.
On that note, what do you think of when we say "Thanksgiving" to you? I bet you are visualizing a turkey dinner with mashed potatoes smothered in gravy and plenty of side dishes. You might even consider serving pumpkin pie to round out the meal. However, there is something that you need to shift your focus into, and that definitely has to be how you keep your audience engaged with your Thanksgiving marketing ideas and strategies. 
Since competition is at an all-time high, it can be tremendously challenging for new businesses to stand out. However, there is no cookie-cutter method on how to boost your sales. But fear not, we have put together a list of savory marketing ideas for you to devour so that you can reach out to your target audience with spectacular Thanksgiving offers.
WHEN SHOULD YOU START YOUR THANKSGIVING MARKETING?
Have you ever wondered when the ideal time is to start your Thanksgiving marketing?
Well, the unofficial start of the holiday season, according to many marketers, is when Halloween is over. Union Metrics, a social media analytics company, analyzes holiday-related Twitter traffic every year because that is where people go to talk about everything. The company has realized that chatter peaks around the same time of year every year.
Union Metrics co-founder Jenn Deering-Davis recommends starting your holiday social media marketing three weeks before Thanksgiving. It is the ideal time for Twitter activity to start building up steam, with daily volume growing. Last year, during the week of Thanksgiving, there were 6.8 million holiday-related Tweets, with 43% occurring on Black Friday.
With so much chaos on social media, posting too early can augment the risk of not being seen. Fair enough- Early November can definitely not bring out that holiday spirit in many people. No doubt, your marketing efforts may fall on deaf ears & and it will be a waste of time and money. 
Therefore, the optimal time to start is the second week of November. That way, customers won't be seeing your offers & deals for the first time by the week of Black Friday.
07 THANKSGIVING MARKETING IDEAS TO BOOST YOUR SALES
01- Get involved in community giving: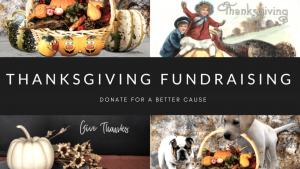 Thanksgiving is all about giving, so it is the ideal time to organize a charity event. Encourage your customers to donate by collaborating with a local charity. Organize a fundraising event, such as a fun run or a canned food drive, and make a donation to your charity of choice. Small businesses also have the virtue of being surrounded by a supportive community. If you do not want to arrange a drive, you can donate a percentage of customer purchases instead.
While many Thanksgiving marketing ideas focus on attracting customers to your shop. This one focuses on improving the perception of your community and interacting with prospective new customers. If at all feasible, link the charity to your company. If you own a restaurant, use it to collect money for non-profit projects such as food for the poor, which provides meals to those trying to get back on their feet. The first step is to establish an emotional connection. 
02- Integrate your product into the holiday:
While Thanksgiving suits best for businesses like restaurants, is it appropriate to say Thanksgiving is not perfect for other types of business. Absolutely not!!! It is certainly not possible for every business to directly relate their product to their Thanksgiving marketing. However, there is another way to bring your product into the spotlight.
It is a terrific idea to use your product on Thanksgiving. Even if your product has nothing to do with the holidays. You can use it in the decorations, put it on the holiday table, and show your consumers how they can use your product to its best potential on Thanksgiving. Or, as GoPro did, use it to build your own engagement.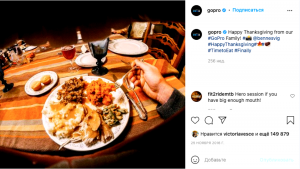 03- Create Holiday Pop-ups: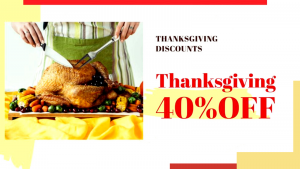 Since the last few months, online marketing has taken a fast pace- it's high time to integrate holiday pop-ups into your marketing strategy. Holiday pop-ups being one of the best marketing ideas, one can not underestimate their power as they can serve a big deal for many small businesses. You can convert online visitors into customers and increase the number of your subscribers, increase sales by instilling a sense of urgency, prevent cart abandonment, and keep in touch with your customers by sending greetings or congratulatory messages during the holidays, among other things.
Popups can also entice users with offers & deals and stop them from leaving your site before taking action or notifying them that they abandoned a shopping cart. 
The following are the best ways to use popups this Thanksgiving:
Focus your popups on the discounts and special offers you want visitors to take benefit of:

Grab emails from customers right as they are about to leave your site.

Disseminate crucial data to specific segments of your customer base.
04- Create a Mix of (Content) Dishes:
Just like you can not settle for one dish for your Thanksgiving menu, you need a mix of content to engage your audience. Since turkey and potato are the main dishes, you can not compromise on side dishes. And it is only fair not compromising with marketing as well. 
Therefore, create ebooks, videos, podcasts, blogs, and other forms of content that are appropriate for your organization and target audience.
Keep in mind that delivering the same thing to your audience will not entice them to return. The spice of life is variety. What keeps your customers and family coming back to the table is a variety of content genres and interesting new side dishes.
BONUS TIP- Put yourself in front of as many users as possible. Instagram is not an apple pie for everyone. Some people enjoy watching videos on YouTube. Make sure your Thanksgiving marketing strategy is not only focused on one channel- expand your social media marketing strategy across all channels. Also, please keep in mind that your message should be consistent and authentic to your brand across all channels.
05- Offer a loyalty discount: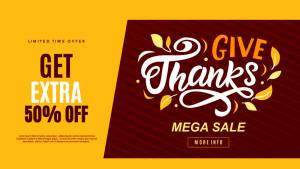 A simple email campaign with a discount can sometimes help boost Christmas sales. Examine your sales data from previous years to identify clients who make large or frequent purchases around the time of Thanksgiving. Increase the sense of exclusivity by offering a hidden loyalty discount to this restricted set of consumers. You can personalize each email by including product recommendations based on what customers have previously purchased.
Limiting the number of recipients is a fantastic method to keep your profit margin in check. Not to add, if your response rate falls short of your target, you can always expand to the second tier of customers. Remember that Thanksgiving is not just about shopping. It is a fantastic opportunity to thank your consumers for their business and reward them for their loyalty. Thanksgiving is an impactful opportunity to set the tone for the rest of the holiday season and prepare yourself for the hectic days ahead.
06- Set smart goals and track ROI:
It is something that every one of us should do. We are all well aware of this. However, a friendly reminder, on the other hand, is a must to set one of the best marketing ideas. 
Here is how it works. It is all too easy to get caught up in the details and lose sight of the broader picture. Set SMART objectives before you go into overdrive: Specific, Measurable, Achievable, Realistic, and Timely goals. It will simplify your life and make your boss happy. Remember to keep track of your return on investment and make changes as appropriate.
Fortunately, some tools may assist you in analyzing and tracking ROI in order to improve your current strategy. These tools are not the same as the automation tools that were once prominent.
Socioleads: Get More Leads
Socioleads provides codeless chat-bot features as well as simple automation plan features. For a brand's social media engagement to have a real impact, a platform like Socioleads is essential.
Socioleads will assist you with your customer engagement efforts. It gives you access to all of the following tools to help you improve your customer connections. They are as follows:
Site Tracking: Site tracking: Socioleads provide information on how many people visit your website, allowing you to use that information to convert these potential customers into revenue-generating customers.
Automated Reports: It is simple to keep track of and assess whether a layout is not functioning the way you want. It sends you daily self-automated reports of all AI interactions with your consumers to see if anything is wrong and if there is any room for improvement.
Lead Generation: Socioleads assists marketers in scaling up their marketing efforts and capturing more targeted leads from the top-most social networking sites such as Facebook and LinkedIn. It boosts sales by providing infinite intent-based leads at no additional expense.
Automated Goals: When a particular amount of likes or comments is reached, Socioleads performs a series of actions with the simple UI.
Intelligent Automated Messaging: Socioleads come with intelligent chat-bots that can serve as your true ally. By swiftly responding to your customers' communications, you can make your messages more personal and offer them a sense of importance.
Socioleads is the best of just about anything you can receive. It will help you establish a strong presence across all marketing channels and improve your customer engagement.
07- Gift your customers with a Thanksgiving giveaway: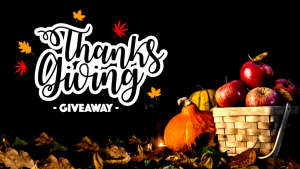 Giveaways are one of the most popular Thanksgiving ideas. Be it Thanksgiving, Black Friday, or Cyber Monday- you can keep things simple & just organize a classic giveaway. 
It is a cost-effective way to acquire sales leads while also rewarding your social media audience. It does not take much work on the part of your followers, but both you and they will benefit.
You can give away a brand product, a luxurious experience, or a seasonal present. Alternatively, you may conduct various fun contests during the holidays. For example, on Thanksgiving, hold a contest for the most prominent family meal, a little quiz to engage your customers or a giveaway for a new Thanksgiving logo for your online business. It is a simple approach to keep your potential customers thinking about your brand and let them know how much you value their business—and it will act as a reminder to them during this crucial shopping season.
Also Read:
Social Media Campaigns: Key To Brand Awareness?
Customer Engagement: What Is It And Is There A Right Way To Go About It?
‌‌Stand Out This Thanksgiving
Now that you have got seven new marketing ideas, try incorporating some Thanksgiving-day magic into your campaigns. Take a handful of these Thanksgiving marketing ideas and evaluate which ones perform best for your company in November.
Socioleads understand how to talk turkey. Socioleads will collaborate with you to create a content strategy that you will be grateful for!
That's all, folks! 
We wish you success, growth, and engagement, and a happy Thanksgiving!