A Hands-On Guide on Facebook Boost Post Button
Before you press the Facebook Boost Post button, learn how and why it can benefit your social media presence! Read ahead to learn more! At first, advertising your company on Facebook might seem overwhelming – the platform's plethora of tools and capabilities can easily overwhelm novice users.
Don't be alarmed. It only requires a simple understanding of the fundamentals to reach thousands of prospective new consumers.
Having a goal in mind is critical to developing the Facebook ad that will best benefit your business, whether you're seeking to boost brand awareness, generate more visitors to your website, or make a sale.
Paying to "boost" one of your posts on Facebook is the most straightforward advertising method on the site. Click the Promote button next to any post on your business page, choose your target audience, and set a budget. After that, Facebook will automatically convert your original post into an advertisement complete with a "sponsored" label in the top-left corner.
What is the Facebook Boost Post button?
A Facebook Boost Post is a type of paid ad that appears on your Facebook page after you make a post. Boost Posts help you promote an existing post and expand its reach. When you boost a Facebook post, it reaches a majority portion of your target audience. People who aren't engaging or interacting with your Facebook business page are seeing that piece of content.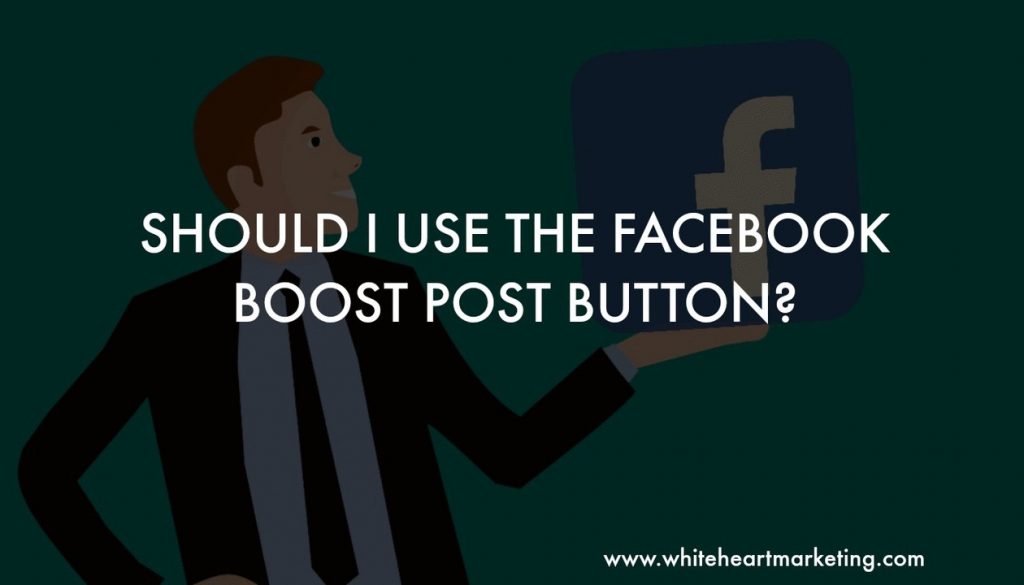 One of the primary objectives to use – boost Facebook post marketing is to spread your message and attract your target clientele. Boosting your posts is a simple approach for you to reach out to potential clients.
Do you have any reservations regarding Facebook boost posts and its overall effectiveness? It is something that a lot of wedding photographers do. Furthermore, you may have tried boosting in the past without success. Facebook boost post offers you more targeting options than other posting methods.
Your success with boosted posts, on the other hand, is contingent on who you target and what your specific objectives are. When you opt to boost a post, Facebook will ask you what results you want from the ad. The way you answer this question affects how your boosted post appears in Facebook's newsfeed.
But is it a good idea to use the Facebook Boost Post button; so your post reaches a whole new crowd? What other benefits does it have? Let us take a deeper look into it!
The Facebook "Boost Post" ad is frequently recommended as a weapon that marketers should have in their toolbox if they wish to combat the platform's gradual decline in organic reach. This button will also eventually lead sales in your company! More on that here! It has been happening year after year as Facebook has become a more competitive environment for businesses wanting to broadcast their content to grow their followings and revenues. So, does boosting your postings get you the intended outcome, or is it just a gimmick?
Benefits of the Facebook Boost Post button: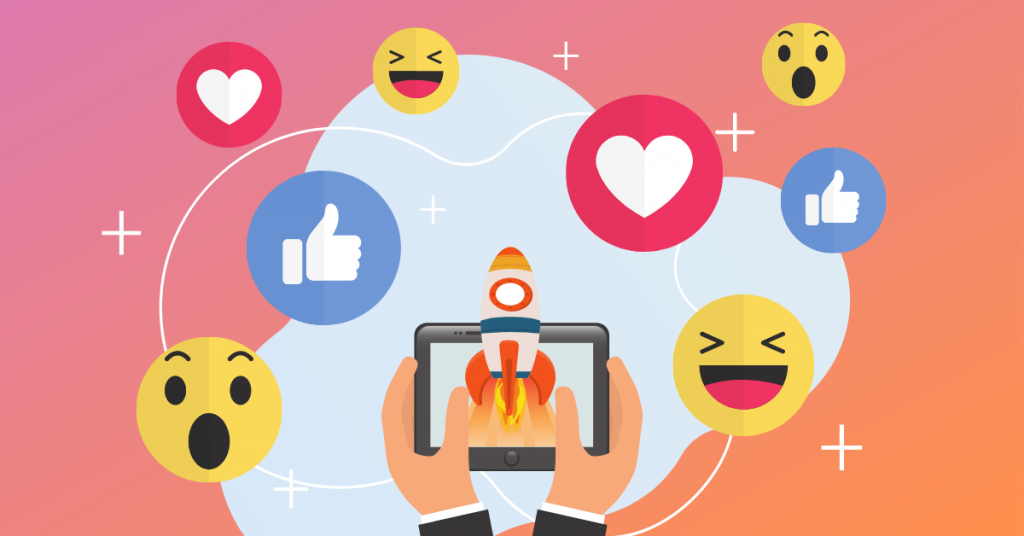 Here are a couple of benefits of the Facebook boost post button:
Tapping into maximum Engagement Potential: When you promote your article, on the other hand, you're taking your already proven content and extracting more value from it. There's no need to split-test your content because the natural results have already proven that it's a winner with your audience.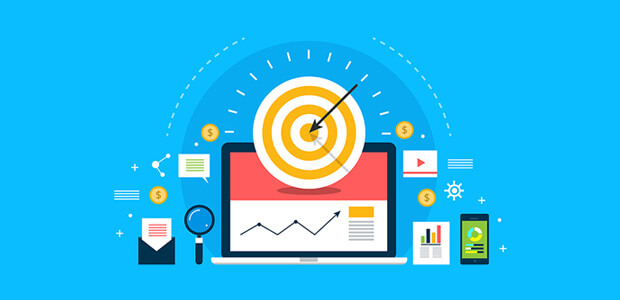 When you pay for Facebook traffic, a boost post on Facebook ensures that you get the most out of both your content and your budget. More on that here. One explanation for the decline in organic reach is Facebook's desire to customise the experience for its users. It implies that before viewing your organisation's posts, people will see more from their friends and relatives. Because your postings will not connect to a customised experience, the algorithm will work hard to guarantee they are not as prominent. You may get around this by boosting your postings.
Venture out to other audiences: Boosting your articles can also help you target your audience more effectively. In addition to your followers seeing your posts, it will also be visible to people who do not necessarily follow you.
When it comes to brand recognition and the effect that you are conveying, this is a great help. When you promote your post, you may choose from age, gender, location, and more. All of these will assist you in determining the most appropriate audience for your page/post. Because you're targeting individuals who will connect with your brand the most, you'll get a lot more shares, likes, and comments.
When you promote your postings, you may pick who you want to target. Facebook allows you to target individuals who like your page and their friends, putting your content in front of all of your fans' friends.
Does not Require Professional Knowledge: Facebook has done a fantastic job of making the procedure as simple as possible so that you can target while remaining stress-free. You may choose your target demographic, the amount you want to spend, and how long you want the boost to run all from one screen.
This straightforward technique allows you to concentrate more on your company while expanding your reach. You can see the results of your boost in your Facebook Insights area. It will be beneficial as you progress through your growth process and concentrate on reaching out to additional individuals. The Page Insights feature will provide you with detailed information about how your page is functioning.
Now that we have the benefits of the Facebook Boost Post button out of the way, we can now focus on how to boost your content on the platform so that more people can see it.
How to boost a post on Facebook?
Here are the steps to boost your post on Facebook:
Decide which post you want to boost. It could be an event, jobs, or just a random status update for your Facebook profile. You may post as many posts as you want on your company page, but you don't have to promote them all. Be particular when picking which article to boost to get the most engagement and attention from your audience. As a result, selecting the proper post to promote is the first step in advertising your business.
After opening your post, click on the Boost button. It should be a rectangle box filled with the signature Facebook blue colour.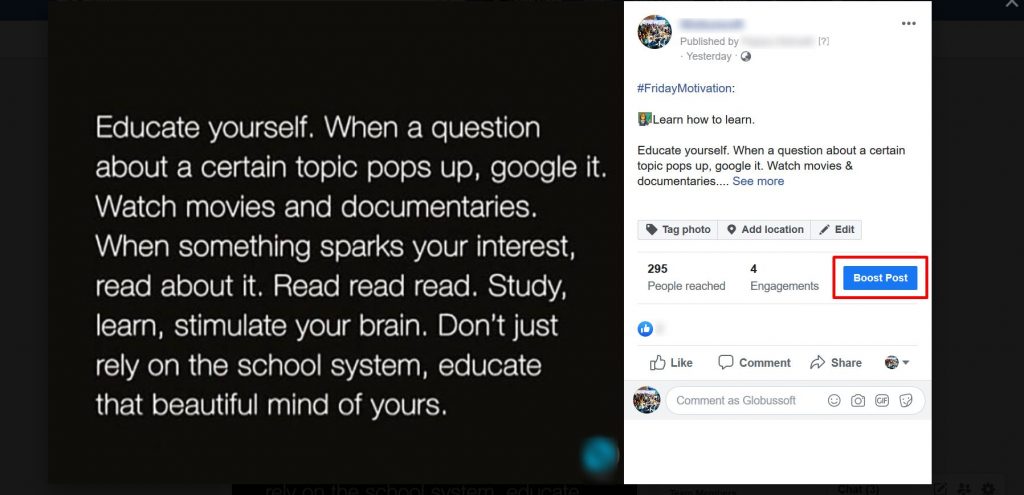 Select your intent behind boosting your post: You'll have to decide what kind of reaction you want from your audience. Is it to raise brand recognition by collecting likes and shares from others, or do you want to connect more with your prospects by beginning a discussion with them?
Choose the one that best fits your requirements.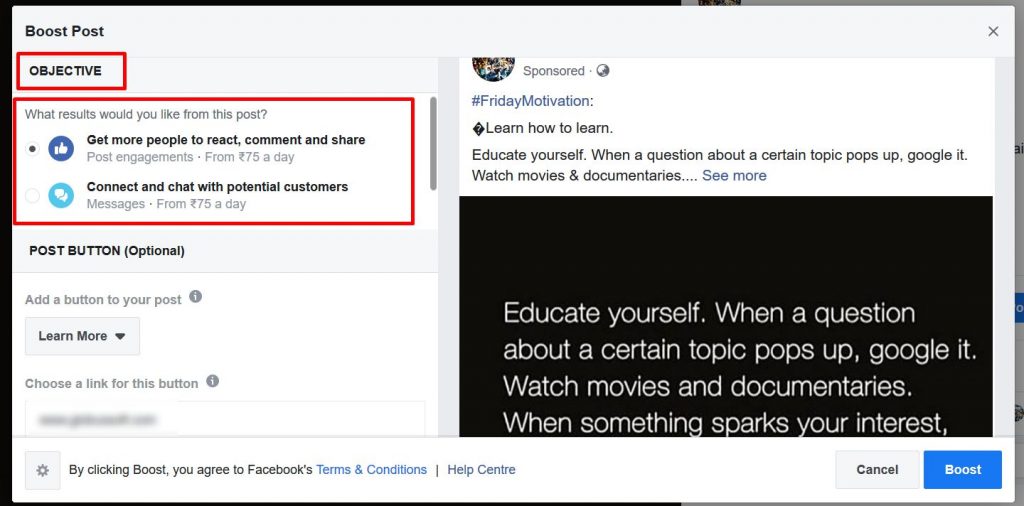 Add a CTA button to your post: Facebook lets you add CTA buttons so your audience may connect with you directly through Facebook Messenger or to visit your website! This button is visible on your if you want to start a conversation straight away. If you only want to be aware, you may keep it unchecked, and no button will show.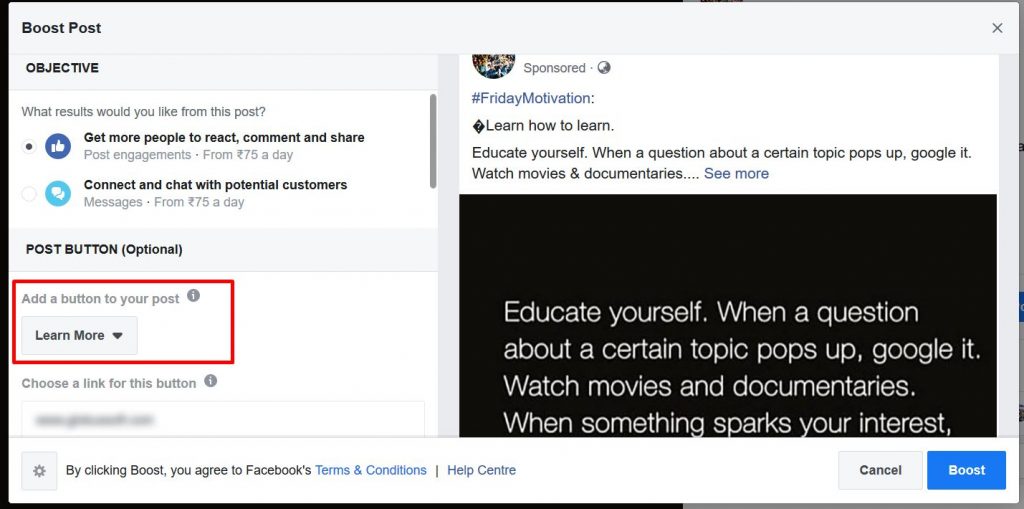 Select Your Target Audience: This is the most impactful choice because it is here that all of your audience's key settings reside. You have numerous alternatives to pick from the broad ranges Facebook provides to target your audience. Additionally, you may create a new audience to gain control of precisely who interacts with your content so that you value the money put into boosting your post.

After pressing the Boost button, Facebook will ask you to set a budget. Many marketers go by the dollar-a-day rule. The rule states that investing one dollar a day to test your post with your target audience is enough time for you to gain an estimate on how the post will perform long term. Stick to the plan, and you will get valuable results from your budget!
According to your budget, specify the number of days your post will be in "boost mode." Your post will be visible to your target audience, who do not necessarily follow you for these many days. Be careful not to run it for too long, or your following will have a negative impact. Too short, and it would not create an impact at all!
Set your Payment Methods: The last step is to add a payment method and pay Facebook to boost your post. You will get a receipt for the transaction on your mail and mobile number. That's your cue to say that you're good to go! Enjoy added reach and impressions on your new Facebook post and garner more interactions from audiences that stumble upon your post.
And that's it! The Facebook boost post cost is affordable for users on the platform, no matter what the purpose is. Marketers recommend using the Facebook boost post button to reach new audiences, especially when the algorithm for organic reach is underperforming.
Also Read:
Facebook Banner Size: First Impression Matters Most
Socioleads 2021: A Year Review Of Leading CRM Software
10 Steps To Boost Sales: Key To Create Best Marketing Campaigns For Christmas
Don't just boost your Facebook post, do more with Socioleads!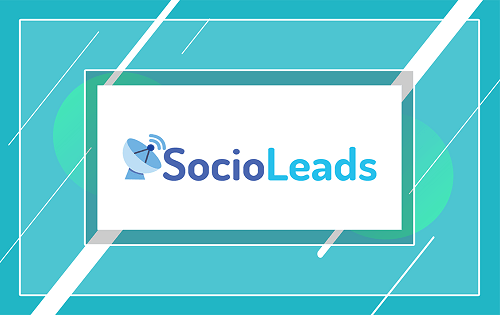 Socioleads enables you and your company to reply on behalf of your clients, so you don't need to. Consumer-to-brand conversations are mostly questions requiring generic answers to the customer.
These replies remain an appalling duty for every human to perform, however general they are. Socioleads remove it away from you so that when necessary, you interact with the customer.
The techniques of consumer involvement developed by Socioleads are stubborn and function over the Internet with numerous social media platforms.
Instant messaging helps clients to interact more with companies. You will probably cling to the brand and enjoy it if your inquiries are taken care of on time, the cornerstone of every social media campaign.
Socioleads allows you to automate all your replies, so you don't have to use your resources to sit down and react to all those that texted your business. It results in a lot of saved time and money on the brand's end.
These are merely messages, but customers love to see and make them feel appreciated as a customer if businesses react to their remarks to the general public. Socioleads not only send automatic direct messages but also replies to comments on your behalf, so you do not have to.