Looking Deep Into The B2B Lead Generation: 08 Intriguing Benefits
A lead is not just a random potential client. It's the one that is only a step away from you. All you need is to seize their attention, provide value and prove that your service will solve their problem. A good B2B marketing strategy involves generating quality leads that will convert into a steady growth rate. Establishing a strong pipeline is a vital component of any good marketing campaign.
A day without growth is essentially a day wasted. B2B lead generation is important because it'll make your business grow. Whether you're already an expert or all of this is new to you, finding clear explanations and best practice advice is crucial to a winning lead generation formula for your business.
Without B2B lead generation companies would struggle to make sales and expand. Having a keen B2B lead generation strategy is key to having a successful every growing business.
In this guide, we'll cover everything you need to know about B2B lead generation. From the tactics you and your marketing teams might use, to how it all works, you'll learn everything you need to generate B2B leads and maximize your results. 
What Does Lead Generation Mean?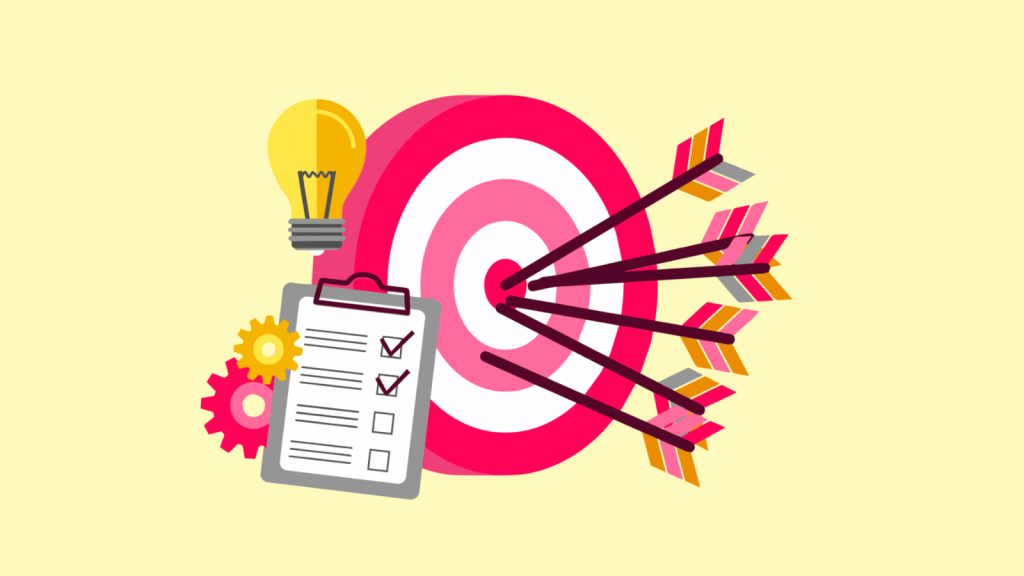 A lead is defined as a party who indicates they have an interest in your company's services or products and are in the market to make a purchase. So then lead generation can be defined as the process of attracting prospective clients and turning them into someone who has an interest in your company or product.
There are many strategies that modern brands and marketers take advantage of in their combined lead generation efforts.
Email Marketing – Some people consider email newsletters and the like to be a thing of the past, however, some studies have found that email marketing is still up to 40% more effective than social media marketing.

Social Media Marketing – Many companies find that social media marketing can help boost their sales over time. Social media marketing is also highly important when it comes to your brand's awareness, something we'll be chatting about later on in this article.

Blogging – Still a highly effective form of lead generation. Blogging is a great aid, it lets your prospective customers know that you've got a great knowledge base when it comes to your chosen field. Blogging also helps when it comes to keywords and ranking on google.

Networking – You may well have heard the old adage 'It's not what you know, but who you know' Although networking isn't the be-all and end of lead generation, building a network around yourself is helpful from many standpoints, not just lead generation. A little factoid to bear in mind is that around 80% of jobs are filled via networking, which makes you think.

Giveaways and Coupons – People love free stuff, so having giveaways is a great way of generating new leads. Coupons are an effective way of getting new customers to your business too.

Live Events and Webinars – A slight extension of the last point, here you'd be hosting events, doing live webinars, or possibly making instructional content for youtube. This will aid in your brand awareness and customer trust moving forward.
This is a brief overview of the most common B2B marketing strategies businesses use to generate leads.
What Is B2B Lead Generation?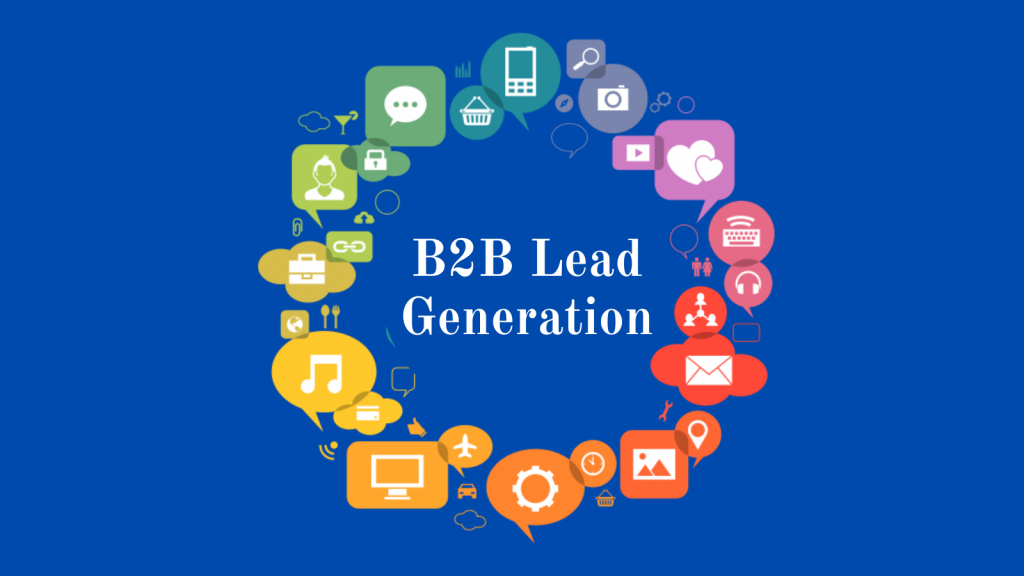 B2B lead generation is short for business-to-business lead generation, which describes businesses that primarily sell to other businesses. The journey of a thousand miles begins with a single step. And in a typical marketing funnel or sales process, B2B lead generation is that step.
In marketing, B2B lead generation is the act of identifying and initiating an interest of potential customers. Or in other words, it's the first step every business must go through before making a sale. Identifying potential customers means finding businesses that may have an interest in the product or service your business is offering (your target audience). Initiating interest is about capturing information from these contacts and feeding them into your sales funnel. A lead can then be converted into a customer with a sale.
B2B companies will usually have different criteria for what is considered as sales qualified leads (SQL), as it will depend on the specific area or niche the business is operating in.
Lead generation traditionally falls under the umbrella of advertising, but it isn't limited to paid-for channels and tactics. Any channel that generates interest in your website or business can be classed as lead generation, both online and offline. The most common channels used include event marketing, social media, email marketing, pay-per-click advertising, cold calling, and content marketing.
One of the most important elements of modern lead-generation marketing is a well-designed website that is fully optimized, and geared towards generating interest in your services.
How Does B2B Lead Generation Process Work?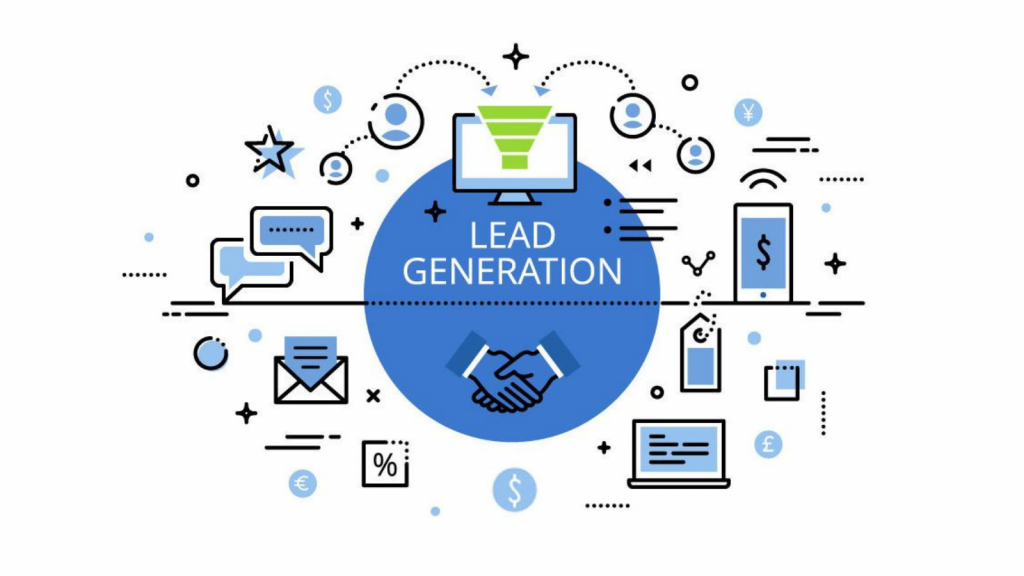 To reduce things down into a simple process, there are four main steps to B2B Lead Generation. You may hear this being called a 'B2B sales funnel' and they work as follows:
Find The Leads:
The first step of B2B lead generation is finding the potential leads contact information. This information is either sourced in-house or by a third-party lead generation company.
First Contact:
Now you have a database of potential high-quality leads to contact, it's time to start some cold contacting. This can either be an email or a social media posting of some kind. The whole point here is to put your business or product in front of the eyes of the people who will be more likely to enjoy your product or service.
Searching and Qualifying Leads:
This stage is about research, is your customer aware of your brand? Do they trust your brand? Are they already considering making a purchase? These are the main contributing factors many B2B customers will be asking themselves before they make a purchase.
Close The Lead:
Purchase! Success! Triumph! Victory! The lead has picked your brand and made the purchase.
There are many different strategies companies use for B2B lead generation, don't worry we'll go into them in more depth later in this article when we cover the best B2B lead generation strategies for beginners.
Why Is B2B Lead Generation Important For Business?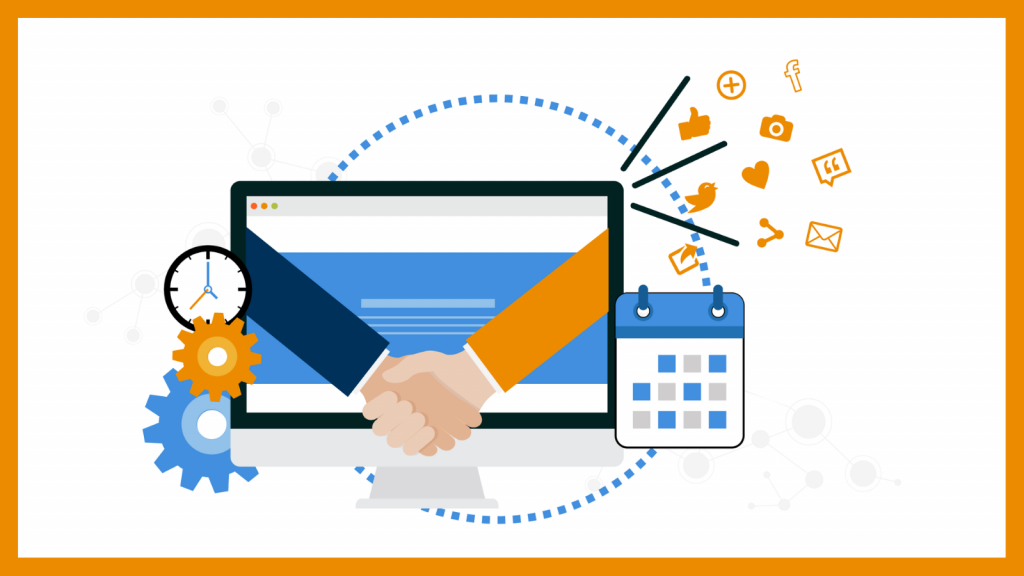 Implementing a B2B lead generation strategy is vital today because many prospects want to control their buying journey. So no longer will ads and traditional marketing work. Today's consumers are conducting their research to find solutions to their problems. 
If you want to drive more high-quality leads to your business, then finding ways to attract your target audience is key. This is where lead generation strategies come into play. Here's a look at some of the benefits of B2B lead generation.
Build Awareness for Your Brand:
People like to shop with brands they know and trust. But to get to this level, you have to build visibility and a good reputation for your brand. Lead generation efforts often consist of tactics to help with this. For example, you can use your blog to establish thought leadership. When visitors view you as an expert in your industry, it makes you more trustworthy. According to Content Marketing Institute, 80% of B2B marketers use content marketing for lead gen. And according to a HubSpot report, 13% of blogs are 13x as likely to have positive ROIs
Increase Your Sales Opportunities:
B2B lead generation strategies are all about building relationships with your target audience. You start by demonstrating your business as a go-to source for information. Then once you have the trust of prospects, they're more likely to consider your products or services when it comes time to make a purchasing decision. This leads to more sales opportunities and revenue for your organization.
Provides Benefits to the Buyer and Seller:
B2B lead-gen is a win-win for both parties involved. On one end, you're driving awareness and prospects to your business. And on the other, prospects are getting much-needed information about their problems and possible solutions to resolve them. This is why all of your lead gen campaigns should keep the prospects' needs in mind.
Drive More High-Quality Leads:
What sets digital marketing apart from traditional advertising is that you have more control over who sees your content. By using SEO, you can target people based on their interests and needs. By incorporating topics and keywords into your content, you can garner interest from prospects who are more likely to buy your product or service.
You can do the same with pay-per-click (PPC) ads. You can use retargeting and audience targeting to display ads to specific groups of people. In the case with B2B, you'd focus on firmographics (company size, industry, tech used, etc.) vs. demographics (age, marital status, income, etc.). When done right, lead generation can drive more high-quality leads. This is especially true when you adopt marketing automation tactics to drive leads. 
Learn More About Your Target Audience:
During lead generation campaigns, you're gathering a lot of information about your target customers. With this intel, you can better understand their needs so you can improve your marketing message and content. For instance, you can learn about your audience's questions and then focus on answering them on your blog, eBooks, social media, and other lead gen content. Analytics tools help capture data and even analyze it (with the help of AI).
Costs Less than Other Forms of Advertising:
Advertising can quickly turn into an expensive endeavor. To get your ads in front of large audiences, you'd normally have to spend hundreds of thousands or even millions of dollars. This is why you'll only find multi-billion dollar companies advertising during the Super Bowl and NBA Playoffs. And it's the same with billboards. Even digital advertising can grow expensive.
With lead generation, your marketing efforts are cost-efficient. You pay once for content creation (either with your time or money), and then it works for as long as it's published. Numbers show content marketing costs 62% less than traditional marketing.
Appeal to Your Target Audience:
People don't like being advertised to, which is what makes lead generation efforts impactful. Rather than selling, you're delivering value to prospective customers. So all of your promotion is done indirectly, making it feel like the decision of the user to look at or purchase your product/service.
Grow Your Revenue:
The opposite of lead generation is outbound marketing. With outbound, you're constantly looking for leads to pursue, and with lead gen, you're getting prospects to come to you. This means you can increase your sales exponentially since it doesn't rely on manual efforts. You have a limited number of salespeople who can do but so much selling during working hours.
Check Our Latest Posts:

Facebook Chatbot- Easy Way to Automated Conversations
A Hands-On Guide on Facebook Boost Post Button
15 Amazing Ways To Increase Facebook Followers
Wrapping It Up:
In today's internet-focused society B2B lead generation has become more and more important, as lead generation generates traffic to companies' websites where they can convert those leads into sales.
Having a nicely designed engaging website that's mobile-ready for your leads to land on has become increasingly more important too and this is an aspect of lead generation that is also highly important. The look and feel of your website will set the tone for how your potential customer feels about your brand.